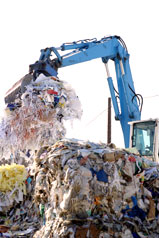 Recycling in and around the home can be easy when you know how. Always make sure you have a recycle bin at your home and keep it in a visible place so you always remember to use it.
If you don't already have one, contact your local council which can supply you with a blue bin which can be used for materials such as aerosols, plastic cartons, tetra paks, paper, aluminium, small electrical appliances, mixed glass (bottles & jars) and plastic.
Recycling is easy, all recyclables should be placed loose into the blue wheelie bin. Please ensure items are empty and clean. Items which should not be deposited in the blue bin include shredded paper, tissues, nappies, hard-backed books or hard backed catalogues, general refuse, plastic bags and food waste.
Other materials such as glass, bulky household items, furniture and large electronic equipment can also be recycled at your Council civic amenity site or recycling centre.
Click for your local civic amenity sites / recycling centre
For further details, contact your local Council.