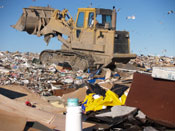 The area currently generates about 150,000 tonnes of waste per annum, while the recycling and composting rate for the area is over 38% and rising.
Northern Ireland as a whole must increase the amount of waste it is recycling and composting to 50% of its total waste levels by 2020. The NWRWMG's Waste Management Plan will play a major role in achieving this target.
The European Landfill Directive has set targets which state that by 2010 bio-degradable municipal waste going to landfill must be 75% of 1995 levels, 50% by 2013 and 35% by 2020. Time is of the essence if Northern Ireland is to meet these targets and avoid heavy EU fines.