Northern Ireland must increase the amount of waste it is recycling and composting to 50% by 2020 and NWRWMG is striving to meet this target. However, there will still be a lot of municipal residual waste – that waste which is left in black bags and wheelie bins after the rest has been sent for recycling and composting. NWRWMG has been formulating the most efficient strategy for dealing with residual waste.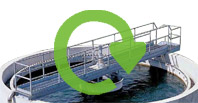 Until now, sending all residual waste to landfill has been the most common practice, but this has got to change. Historically, landfill has been the cheaper option but this will not be the case for much longer. The European Landfill Directive has set very stringent targets to reduce the amount of waste we send to landfill and failure to comply could potentially lead to severe European refraction fines.
The targets set state that by 2010 bio-degradable municipal waste going to landfill must be 75% of 1995 levels, 50% by 2013 and 35% by 2020. Time is of the essence if Northern Ireland is to meet these targets.
There is also a strong environmental incentive to reduce land filled waste as landfill is a major contributor to greenhouse gas emissions, due to the methane released by decomposing waste.
NWRWMG believes that a combination of Mechanical Biological Treatment (MBT) and energy recovery technologies is the best alternative to landfill in terms of how we deal with residual waste.