In accordance with the Waste Management Plan, householders are firstly encouraged to minimise their waste by, where possible, re-using items and reducing, for example, the amount of packaging on items bought.
Next, householders should recycle as much as possible using facilities such as blue bins, bottle banks, recycling centres and brown bins / home compost units where available. Under the present system, all the residual waste from your black bins is sent to landfill.
However, due to stringent EU targets set to reduce the amount of waste that is sent to landfill and fines for those councils which fail to meet these targets, alternative methods of waste management have to be introduced to deal with residual waste.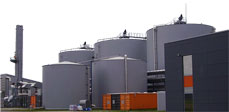 The North West Joint Committee has decided that conventional and mass-burn incineration is not an acceptable technology in the North West Region.
NWRWMG believes that a combination of Mechanical Biological Treatment (MBT) and energy recovery is the best alternative to landfill and, to this end, the group has begun the procurement process in order to implement these technologies.
When waste goes to an MBT facility, recyclable or re-usable material will be extracted from it by a mechanical process, with the waste then subjected to further treatment to produce a more biologically stable material. There are a number of energy recovery technologies, which include gasification, pyrolysis and use of cement kilns.
Gasification is a form of advanced thermal treatment of waste, used to recover energy from residual waste. Gasification uses small amounts of oxygen to dispose of waste in such a way that useful energy is produced, in the form of electricity and heat.
Pyrolysis is a similar process to gasification but uses no oxygen rather than restricted oxygen, as in gasification.
Cement Kiln is where refuse derived fuel is used to replace some of the fossil fuel used to run a cement kiln and thus saves the use of the non-renewable fossil fuel.