The NWRWMG is the voluntary coalition of seven councils responsible for delivering effective waste management infrastructure on behalf of the seven councils in the North West of Northern Ireland.
The group has formed a Joint Committee of councils under the Local Government Act (Northern Ireland) 1972 in order to carry out this work.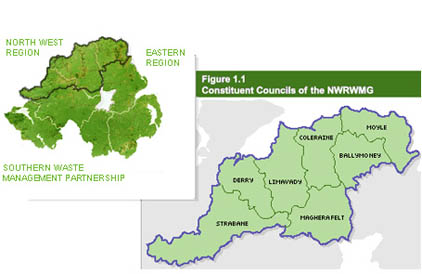 There are two elected members from each council that sit on the NWRWMG joint committee.
Ballymoney Borough Council
Coleraine Borough Council
Derry City Council
Limavady Borough Council
Magherafelt District Council
Moyle District Council
Strabane District Council
The NWRWMG has a land area of 3,830km sq, which represents 27% of the area of Northern Ireland.